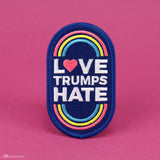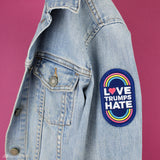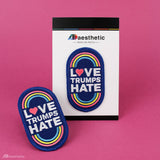 Love Trumps Hate Iron On Pride Patch
Love is love is love, and love always trumps hate. Show your colors with our Love Trumps Hate patch. This embroidered cloth badge is a fun and simple way to personalize your look, and can be easily affixed by ironing them onto a t-shirt, jacket, canvas bag, hat, or wherever else you choose.
95 mm
Embroidered Patch
Base material - twill
Overlocked Edge
Iron-on application (iron without steam)
---
Application Instructions:
Thoroughly iron the area of the garment where the patch will be placed.
Place the patch on the garment and cover with a cloth (such as a tea towel) for protection.
Set iron to medium temperature (without steam) and press firmly for 20-30 seconds.
Turn the garment inside out, and iron the back of the patch for another 20-30 seconds.
Let cool for one minute, then check the edges of the patch. If any part can still be lifted, repeat steps 3 and 4.
©AD Aesthetic, LLC